Saddle (SAD01) Hand Sewn Drafter Felt Lined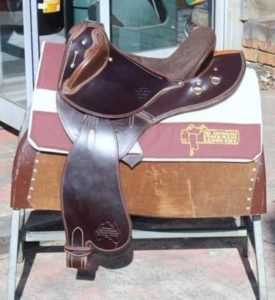 This Saddle is hand crafted on a hand-made traditional steel lined timber tree. It is made with heavy harness leather sourced from England. Heavy harness leather is traditionally oak tanned for 14 months in century-old pits in England, making it one on the best leathers in the world.The fenders are mounted on a stirrup bar in the same forward leg position as the flap saddles. The seat is hand webbed with an overlay of foam and felt. This is a very close fitting saddle with a large felt lined panel for your horse's comfort.
Please contact us to place an order or for more details.
Price – $5000.00